Previous Projects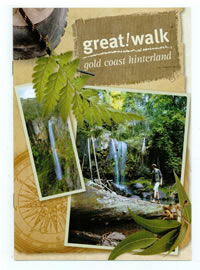 Oct 2009 - Gold Coast Hinterland Great Walk - Tour packaging
Client : Tourism Queensland
Brief:
To commercialise the Gold Coast Hinterland Great Walk (GCHGW).
To research and develop a range of tour packages to be marketed and sold through the traditional tourism distribution system.
To identify new and existing tour Operators and in conjunction with Queensland Parks and Wildlife Service ( QPWS), develop a range of appropriate tour packages suitable for a variety of market segments.
Feb – June 2009 - Great Sunshine Way International Campaign, Visitor Information Centres training.
Client – Tourism Queensland
Brief :
To develop and deliver a training program to each Visitor Information Centre in Southern Queensland, outlining Tourism Queensland's International campaign for the Great Sunshine Way.
The training program was designed to both educate the VIC staff and Volunteers on the campaign and to engender an inclusiveness of the VIC network and the wider tourism industry.
April 2010 - Outback Mates Pilot project.
Client : Outback Queensland Tourism Association (OQTA)
Brief :
To research, develop and deliver a Manual for a Pilot program to be delivered by the Barcaldine Regional Council.
This manual and accompanying documentation will be used by other Local Government Authorities to roll the program out across the state.
This project identified the untapped potential resource of local workers and identities and harnesses the potential benefits of appointing them Tourism ambassadors.
The pilot program was launched by the OQTA in Oct 2010 in Barcaldine.